So now that Mel and I are officially pregnant (that's what this somewhat cryptic post was about, in case it wasn't clear), we've been trying to figure out how in the world we're going to keep riding bikes with an infant.
Mel really set the standard high when she suggested that we buy a cargo bike:
(Photo by Pays-Bas Cycle Chic, via flickr)
I grin from ear to ear when I think about my little Fetus Daughter snugly nestled in a cargo bike. We like this system because it allows us to use a standard car seat, and it places the precious cargo directly in front of the rider where Mum or Pop can keep a constant watch. But the $3,000+ price tag is a little hefty, especially since the design of the bike doesn't lend itself well to being transported any way other than riding it (so, for example, if we wanted to drive the bikes to a trail head before riding, this is of no use to us). Plus, this thing will require some serious real-estate in the garage. There are a couple cheaper options than the original Dutch Bakfiets, but none of them are cheap. We're totally bummed that we're having a hard time justifying this purchase.
Mel summed it up best:
I sort of hate it when we talk ourselves out of being badass to be practical.
So the cheaper option is the standard bike trailer. If it's big enough, you can just strap the car seat right into the trailer. Once they're a little older, there are kid seats designed for infants, like the following: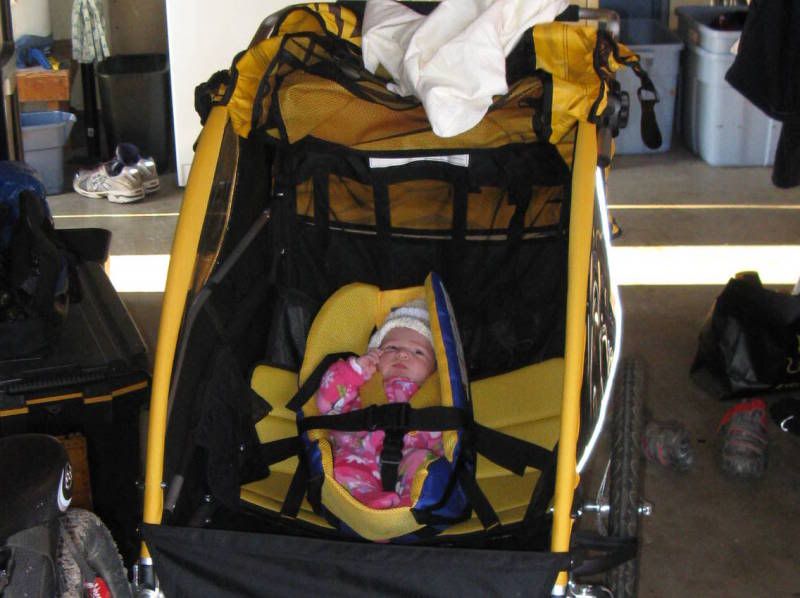 Or maybe having a kid will just suck my life away and I'll never do anything fun again. Yea, I guess that's an option… we'll see.
Ok, internet, Now's your chance to talk me into buying a cargo bike. Ready? Go.